Solar Power: A gateway to women's economic empowerment
Written by Caleb Mutua
"I always tell them that all these things were possible because we came together as women. There is nothing more powerful than that."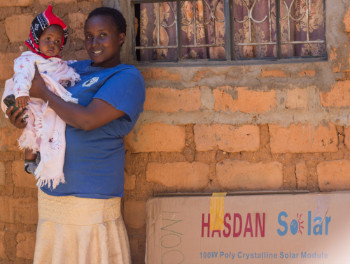 Women are the backbone of Kenya's rural economy. They prepare farms, cultivate crops, manage livestock, make sisal ropes, keep bees and grow vegetables in kitchen gardens among other activities to lift their families and communities out of poverty. For most of these women, however, they have to spend five hours on average every day fetching water before they can embark on any income-generating activity. The daunting task of fetching water, which is considered a woman's domestic duty, makes it difficult for the majority of the rural women to explore enterprise opportunities in their villages.
Jackline Kamene, 28, represents a rare example of the few women in her village who have seized the economic opportunities that non-farm employment provides. She sells foodstuff (bread, milk, sugar, honey, vegetables and cereals) at her small roadside kiosk (stand). Small businesses particularly provide rural women with economic opportunities and reduce their dependency on agriculture. This is especially true in Kenya, where persistent drought and unpredictable climate change have significantly dented the incomes of most farmers, leaving them poorer.
"Unlike most women in my village, I have two 10,000 liters water storage tanks (3.78 liters equals 1 gallon). Having enough water to use at home sets me above the rest in many ways. Having a water tank means I can spend more time in my kiosk while my neighbors spend hours at the nearest well fetching water. Because it is clean water, these tanks also save me a lot more money that my neighbors spend on hospital bills because of drinking contaminated water," she explained.
Jackline got married eight years ago to her carpenter husband Lazarus. At first, their monthly water budget was $30. But when they got their first born, the bill doubled to $60 a month. She says, "I was very lucky to have a mother-in-law who is a member of PFP. She enrolled me in Kyeni Kya Yatwa Women Group immediately after my wedding. She even paid my first monthly water contribution. My husband was also very supportive, he matched all the water contributions I made."
A year later, she received her first tank. She stopped going to the well to fetch water. A month later, her husband opened for her the kiosk and sixteen months later she got her second tank. By 2015, all her group members had at least two water storage tanks. As a group, they decided to start a solar panel project. Jackline got her first solar panel last year. "I used to close my kiosk at dusk because my son needed to use the kerosene lamp to do his homework. Having a solar panel meant that I could operate the kiosk until late."
Last month PFP sisters from Seattle, Washington visited her kiosk with a gift solar panel. "The second panel has come at the right time because we are hoping to finish our new house in a month's time. Look, neighbors think we are very rich because of the huge tanks, the solar panels and the kiosk but I always tell them that all these things were possible because we came together as women. There is nothing more powerful than that."